Vintage Debbie Reynolds Look A Like Doll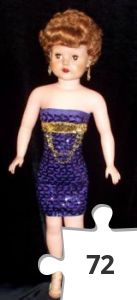 Interestingly, the DollCollector person who creates these puzzles at Jigidi thinks this 30-inch 1950s high-heel fashion doll is a Debbie Reynolds look-a-like. Perhaps, the version of the doll by Deluxe Reading that was named
Darling Debbie
was inspired by the late actress, Debbie Reynolds. Formerly a white doll, I dyed this doll brown with Rit clothing dye in the late 1990s/early 2000s. It was a tedious task because the body is cotton stuffed. The body took several days to dry out. Initially after dyeing, the doll was a true brown color. Throughout the years, the color faded to a much lighter color, as illustrated in this more recent photo.
These dolls were sold in grocery stores during the 1950s and given away as premiums by some department stores. Deluxe Reading did make an African American doll that uses this same head and body. Dressed as a bride, the AA doll was named Betty the Bride.
Click the
subtitle
to solve or
here
.
dbg
Follow my sister blog
Ebony-Essence of Dolls in Black
Check out my eBay listings
here
.